Rochester Roofing Specialists
Oaks Roofing and Siding is your go-to company in Rochester and the neighboring areas for all your roofing and siding needs.

Fully Licensed, Insured, and Certified
Get $2000 OFF all roofs!
Free Estimate for Rochester residents
Our Siding & Roofing Services in Rochester, NY
When you're looking for a roofer or an expert in siding, solar roofing, or windows and doors, Oaks Roofing and Siding is the contractor for you. We have 20+ years of experience in providing homeowners with exceptional experiences. Oaks is recognized year after year as one of Rochester's Top 100 Businesses.
Roofing Repair in Rochester, NY
Roofing Repair in Rochester, NY
Your roof protects your family, home, and personal property from the elements. Time, normal wear and tear, weather, and other factors can cause damage or deterioration. Oaks Roofing and Siding's Rochester roofers can efficiently identify and repair roofing issues, from minor leaks to extensive damage. Our highly trained and qualified roofing contractors will ensure that your roof is in great shape and ready for whatever Rochester weather dishes out.
Roofing Replacement Tailored for Rochester Homes
If wear-and-tear or damage to your roof is too extensive, a repair may not solve your roofing problems. A roof replacement is necessary when a roof is 20+ years old or has issues that lead to leaks. We're happy to take you through the roof replacement process, including choosing from a variety of premium materials to suit your home's aesthetics.
Roofing Installation
One of the most important decisions you'll face when building a new home is the selection of a reliable roofer. Rest assured that Oaks Roofing and Siding contractors will provide exceptional service whether you choose asphalt, metal, or solar roofing. Your new home will stand out with a beautiful, durable roof from Oaks.
Commercial Roofing
Commercial roofing tends to have different requirements than residential roofs. Our experts understand the unique intricacies and demands of commercial roofs. We're experienced in low-slope and flat roofs, including TPO and EPDM, along with more traditional roofing materials, such as asphalt shingles.
Solar Roofing
Oaks Roofing and Siding is your Rochester expert in solar roofing installation. We use GAF solar roofing systems to provide your home with sleek, attractive, energy-saving solar solutions. Ask us how you can reduce energy bills with solar roofing.
Siding Installation, Repair & Replacement
Siding Installation, Repair & Replacement
While you might think of siding in terms of curb appeal, it also serves to protect your home. That's why any areas showing signs of wear or water damage should be repaired as soon as possible. If the areas of damage are extensive, siding replacement can be done with your aesthetics and budget in mind. Our Rochester experts will help you choose the siding option that works best for you.
Window and Door Replacement
Your windows and doors play a critical role in home protection, curb appeal, and energy efficiency. When you're ready to upgrade your home's appearance, safety, or insulation, give us a call. We'll help you choose from a wide variety of high-quality windows and doors that will make your home look and feel fantastic.
Why Choose Oaks Roofing and Siding?
Unparalleled Quality in Rochester Roofing

Your home is likely your most significant investment. That's why you should choose a roofing company that insists on using the best materials, highly trained and experienced contractors, and meticulously maintained equipment. Our unrivaled reputation is built on consistently surpassing industry standards and, more importantly, exceeding homeowner expectations.
Honesty & Transparency: No Surprises, Only Solutions

You need a new roof or repair, but where do you start? How much will a roof cost? How long will the process take? Do I need a repair or replacement? As your Rochester roofers, Oaks Roofing and Siding provides you with simple, straightforward information and transparent pricing. Your project manager will consult with you, answer your questions, and keep you in the loop throughout the entire process.
Rochester Pride: More Than Just Roofers

Rochester is near and dear to us. You can see our work on historic homes, commercial buildings, and residences throughout the area. We're proud to be a part of what makes Rochester great, and we promise to continue providing superior roofing solutions to homes and businesses every single day.
Roofing in Rochester with Expert Installation
We offer our customers only the highest quality roofing materials, but that's only part of the equation. An effective and visually appealing roof requires expert installation. Our contractors have extensive training and experience that sets them apart in roofing. We provide ongoing training in the latest roofing materials and processes to ensure the best possible outcomes for Rochester homes. We boast comprehensive manufacturer training and certifications to provide our customers with the best roofing installations. Call 585-247-6257 or contact us today!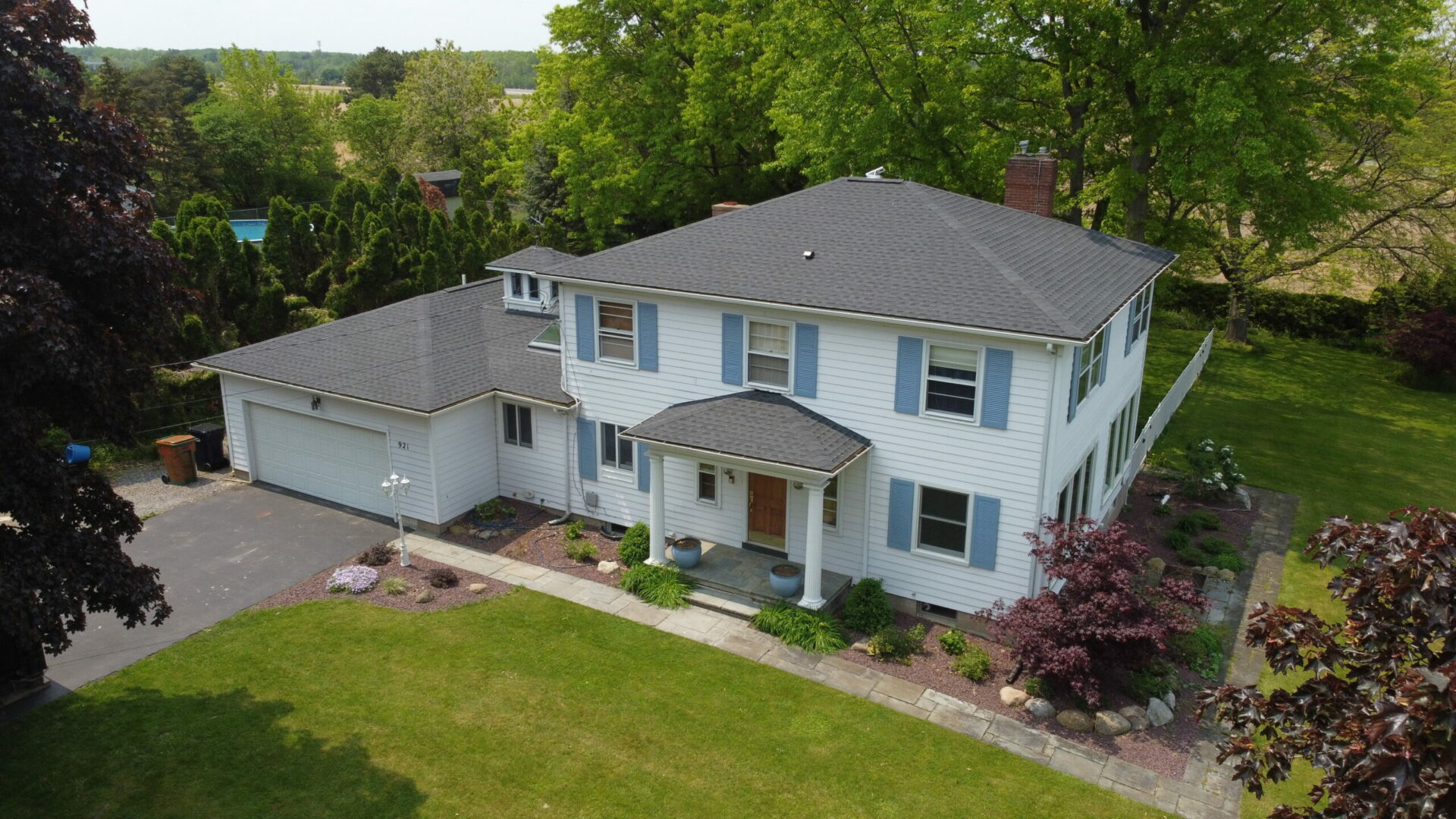 Oaks Roofing and Siding 5-Step Roofing Process:
Our process is tailored to suit the needs of our Rochester clientele, ensuring a smooth and efficient roofing experience from start to finish.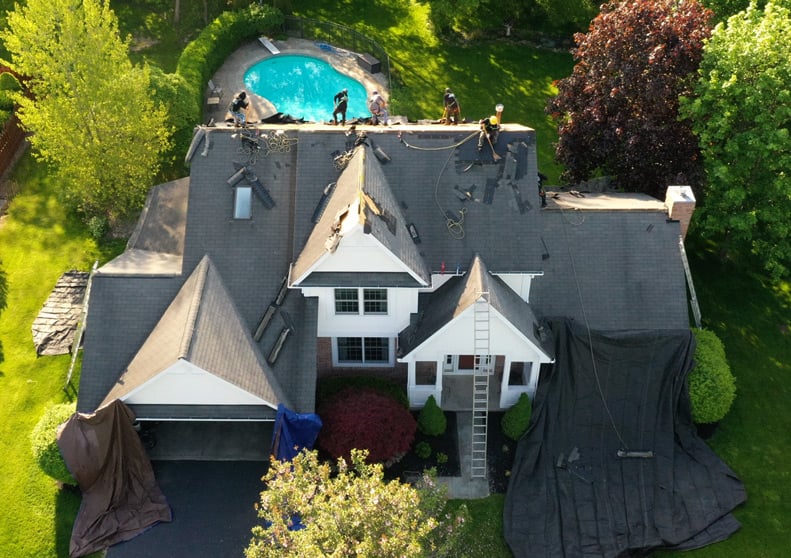 Scheduling & Permits:

Our customer service professional schedules your roofing appointment and handles all required permits.

Preparation:

We order your chosen shingles and materials, and on the roofing day, protect your property with tarps.

Removal & Protection:

We remove the old roof and lay down the ice and water shield and underlayment to safeguard the wood decking.

Installation:

Our team installs the roofing materials you selected, ensuring vents and flashing are replaced or added as necessary.

Cleanup & Satisfaction:

Post-installation, we clean the site thoroughly and check with you to ensure complete satisfaction.
Common Roofing Questions in Rochester
How long does a roof last?
On average, an asphalt shingle roof lasts 15-25 years, and metal roofs about 50 years. The lifespan of your roof depends on the materials used and the quality of installation.
How will I know my roof needs to be replaced?
Look for these telltale signs that your roof is in need of replacement:
Shingles that are absent, warped, or show signs of wear

Roofs that are over 20 years old

Significant amounts of shingle granules in your gutters

Leaks or damp spots in your attic space

Roofs that display a noticeable dip or sag

Moss or green patches on your shingles
How much will my new roof cost?
Our representatives will provide you with a detailed estimate that's tailored to your roof. The total cost depends on your roof's dimensions, your choice of shingles and other roofing materials, how many layers need to be removed from the existing roof, whether your roof requires removal and installation of new decking, and the number of chimneys and vents. Your estimate is itemized to reflect what we anticipate with your roof.
Can you give me an estimate over the phone?
Sorry, but we need to inspect your roof in order to give you an accurate estimate.
Flexible Siding & Roof Financing Options Available

Discover the financial advantages of choosing Oaks Roofing and Siding for funding your roofing project. Unlike direct lenders, we offer custom financing solutions for all your roofing and siding endeavors in Rochester, NY, and the neighboring regions.
Connect with us now, and let's craft a finance strategy perfectly aligned with your financial capabilities.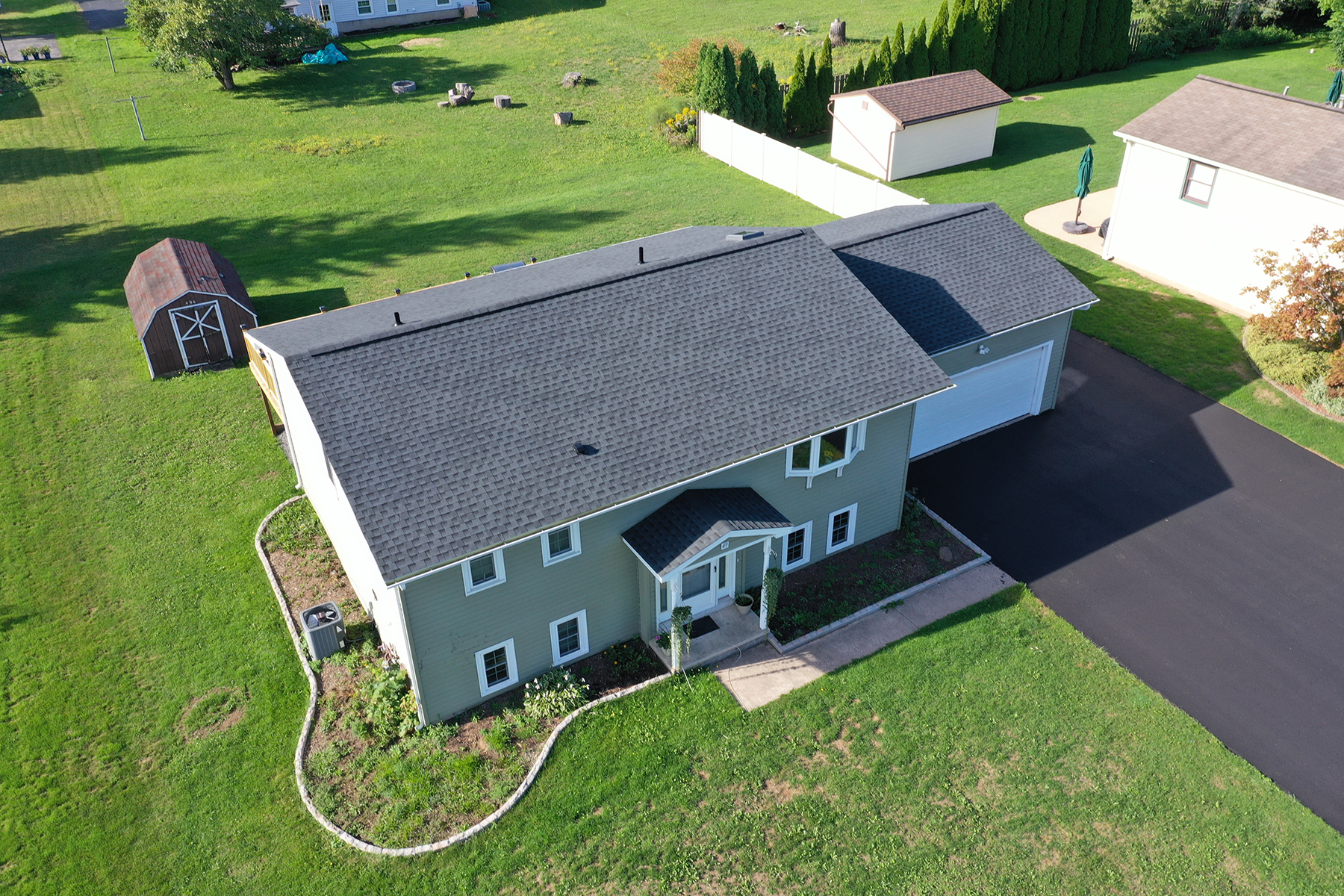 Call us now to schedule your free roofing consultation and estimate!