Buffalo Roofing Specialists
Oaks Roofing and Siding is the preferred choice in Buffalo and the neighboring areas for roofing and siding projects.

Fully Licensed, Insured, and Certified
Get $2000 OFF all roofs!
Free Estimate for Buffalo residents
Roofing & Siding Services in Buffalo, NY
With hundreds of 5-star reviews, Oaks Roofing and Siding is the premier provider of roofing, siding, and more for homeowners in Buffalo, NY, and the surrounding areas. We're family-owned, dedicated to the communities we serve, and focused on providing every customer with a fantastic experience.
Roofing Repair in Buffalo, NY
Roofing Repair in Buffalo, NY:
Time, weather, mold, and other factors affect the integrity of your roof. Because your roof is your first line of defense against damage from the elements, it's wise to call the Oaks Roofing and Siding experts for a roof inspection. We'll identify any roofing issues and recommend repairs or replacement. Don't wait until you have active leaks causing mold and water damage. Contact our professionals to ensure your roof is ready to endure whatever Buffalo weather throws at it.
Roofing Replacement Customized for Buffalo Homes
Our highly trained and experienced staff knows what roofs in Buffalo go through. We'll come out and provide a free roof inspection, outlining what issues we see and our suggested replacement solutions. As a superior Buffalo roofer, we'll give you a detailed estimate and guide you through the entire roof replacement process. We'll assist you, from material selection through installation, to make sure you have an excellent experience.
Roofing Installation
If you're building a new home, you can rely on our expertise to provide a durable, aesthetically pleasing roof. We offer roofing solutions in asphalt, metal, and solar, with dozens of styles and colors to choose from. Not sure what to choose? We're happy to help you find the right roofing for your taste and your wallet.
Commercial Roofing
Oaks Roofing and Siding is skilled in residential and commercial roofing. Our commercial roofing team consists of experts in new installations, emergency repairs, and more. If your commercial building has a low slope or flat roof, we offer long-lasting thermoplastic polyolefin (TPO) and ethylene propylene diene terpolymer (EPDM) installations and repairs.
Solar Roofing
If you want to reduce your carbon footprint and save money on energy bills, we offer solar roofing solutions to help you accomplish both. Are you concerned about aesthetics? We use GAF solar products designed to look great and contribute to your home's energy efficiency.
Siding Installation, Repair & Replacement
Siding Installation, Repair & Replacement
Does your siding need an upgrade? Improve your curb appeal and protect your home with superior siding from Oaks Roofing and Siding. Whether you're looking to repair damaged siding or update your whole house, our Buffalo siding contractors have the experience and expertise to do the job right. Choose from a wide range of vinyl, fiber cement, or stone veneer siding options to find just the right option for your house!
Window and Door Replacement
Increase the comfort and energy efficiency of your home all year long with new windows and doors from Oaks Roofing and Siding. Modernize your home's look, improve safety, and boost insulation with selections from a wide variety of window and door choices. Our team will install your picks and ensure that they function correctly.
Why Choose Oaks Roofing and Siding?
Unparalleled Quality in Buffalo Roofing

There's a reason Oaks Roofing and Siding is the preferred choice of home and business owners in Buffalo, NY. It's our commitment to providing every customer with the highest quality materials, workmanship, and service available. We are dedicated to meeting and exceeding your expectations in every step of your roofing experience.
Honesty & Transparency: No Surprises, Only Solutions

Navigating a roofing project can be intimidating. We know you'll have questions, and we're prepared to answer them in straightforward language. Our representatives won't throw out technical terms and roofing jargon — we'll explain everything plain and simple. From our detailed estimates through your roofing installation, we offer clear communication, comprehensive information, and transparent pricing. With us, you'll have all the facts you need to make informed decisions for your home.
Buffalo Pride: We're More Than Just Roofers

It's no secret that we love Buffalo. Our family-owned business has been dedicated to turning Buffalo homeowners' dreams into realities since 2003. We've restored historic roofs in the city, replaced modern architectural asphalt shingles in the suburbs, and repaired roofs on rural farmhouses. Every job is steeped in pride for the Buffalo community. And on football nights, you know we're cheering for the Bills!
Roofing in Buffalo with Expert Installation
While we use high-quality materials for every roofing job, they are only as good as their installation. Our team boasts decades of collective expertise in roofing. Every contractor receives ongoing training so that we are educated in the latest materials and techniques for superior results. We are proud to hold some of the most elite manufacturer certifications that allow us to provide the best roofing experiences for our customers. Call us today at 716-577-6257!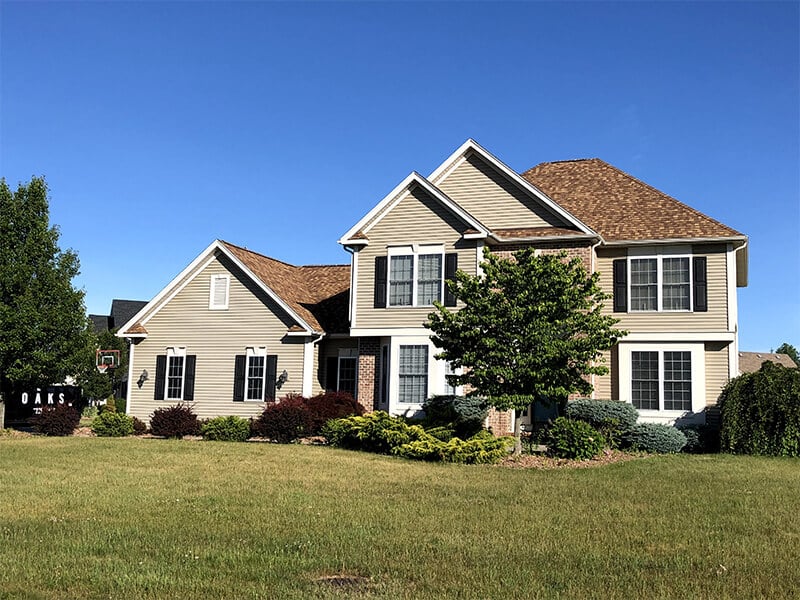 Oaks Roofing and Siding 5-Step Roofing Process:
Our process is tailored to suit the needs of our Buffalo clientele, ensuring a smooth and efficient roofing experience from start to finish.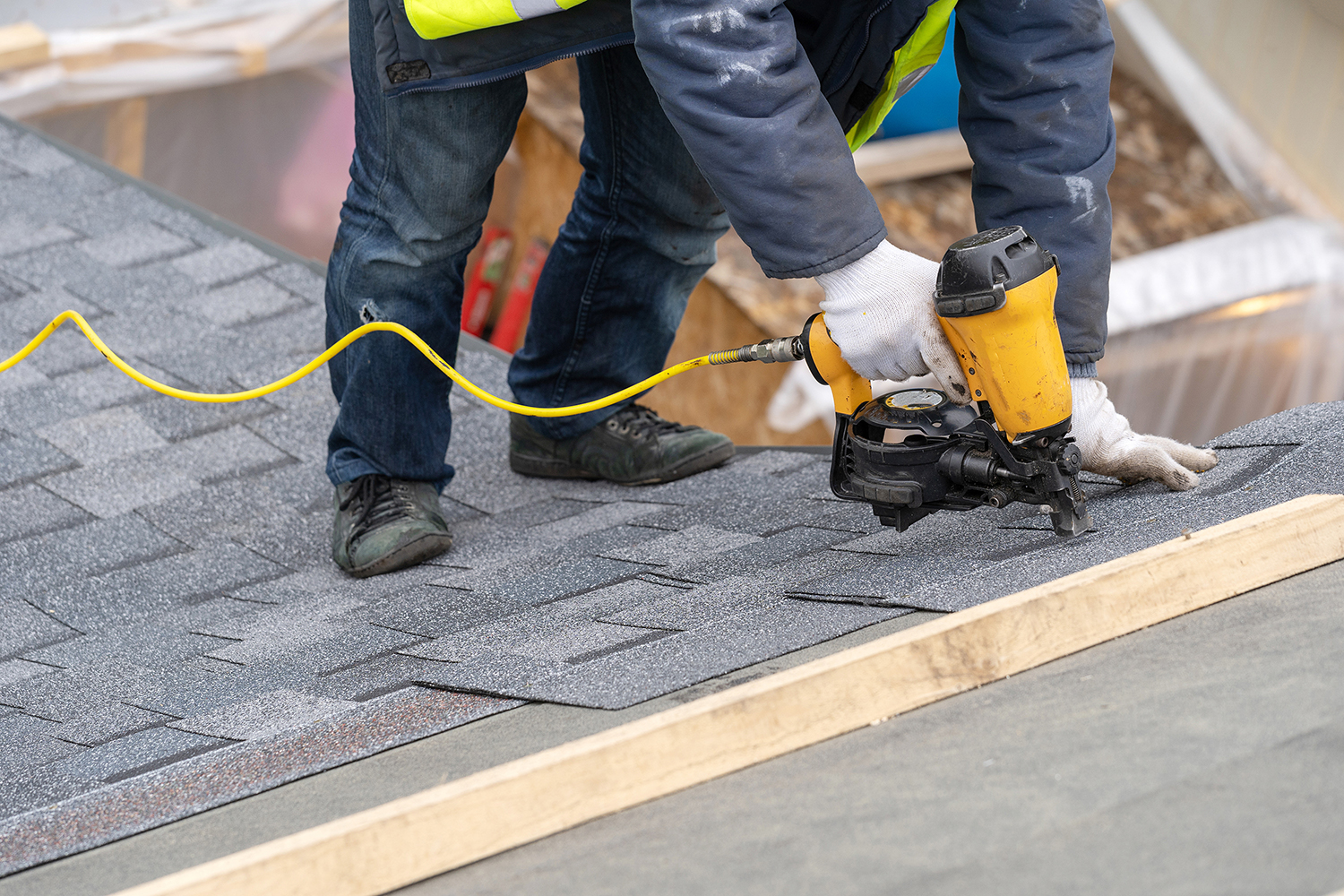 Scheduling & Permits:

Our customer service professional schedules your roofing appointment and handles all required permits.

Preparation:

We order your chosen shingles and materials, and on the roofing day, protect your property with tarps.

Removal & Protection:

We remove the old roof and lay down the ice and water shield and underlayment to safeguard the wood decking.

Installation:

Our team installs the roofing materials you selected, ensuring vents and flashing are replaced or added as necessary.

Cleanup & Satisfaction:

Post-installation, we clean the site thoroughly and check with you to ensure complete satisfaction.
Flexible Siding & Roof Financing Options Available

Discover the financial advantages of choosing Oaks Roofing and Siding for your funding needs. Unlike direct lenders, we offer custom-made financing solutions for all your roofing and siding endeavors in Buffalo, NY, and neighboring regions.
Connect with us now, and let's craft a finance strategy perfectly aligned with your financial capabilities.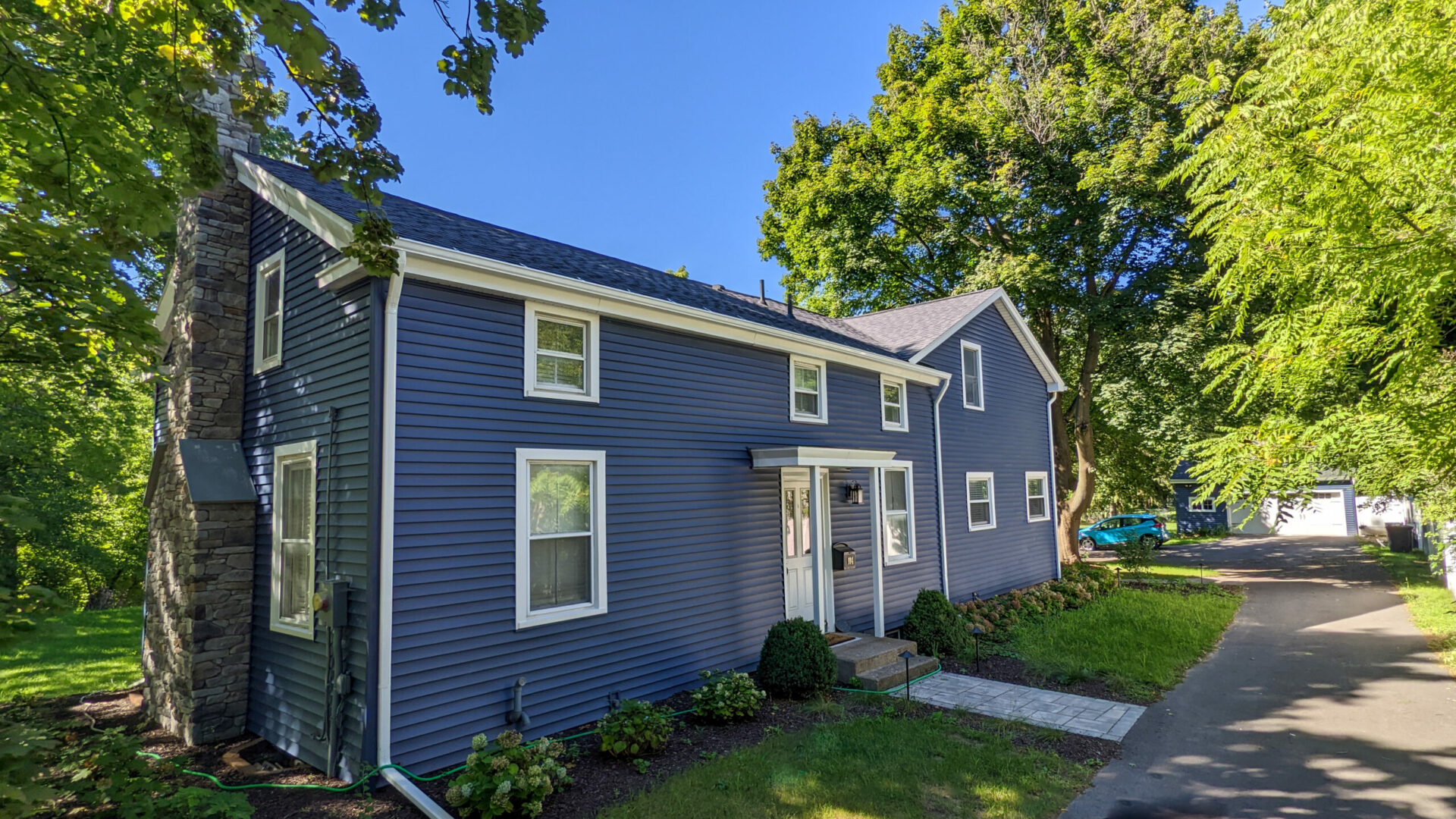 Common Roofing Questions in Buffalo
How much will my new roof cost?
Our representatives will provide you with a detailed estimate that's tailored to your roof. The total cost depends on your roof's dimensions, your choice of shingles and other roofing materials, how many layers need to be removed from the existing roof, whether your roof requires removal and installation of new decking, and the number of chimneys and vents. Your estimate is itemized to reflect what we anticipate with your roof.
How will you protect my yard? Plants? Pond? Play structure?
We will use plywood and tarps to protect your home, yard, and any structures.
How do solar panels work?
Solar panels are made up of photovoltaic (PV) cells. The cells are wired together within the panel to convert solar rays to electricity. Our expert installers will let you know how many panels you need for your roof array.
An inverter is needed to take the direct current and convert the energy to AC, which our electrical appliances require. The AC energy will flow through your electric meter and into your home.
What are the most important things to look for in a roofing contractor?
Positive reviews from customers in the last 3-6 months

Licensed, insured, and bonded for work in your state

Types of warranties offered on workmanship
Call us now to schedule your free roofing consultation and estimate!